By Nelson Balido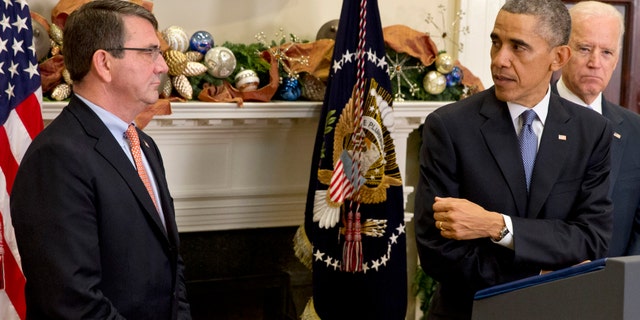 President Obama and Ashton Carter, his nominee for defense secretary, Friday, Dec. 5, 2014. (ap)
The – most likely – new U.S. Defense Secretary, Ashton Carter, has plenty on his plate in far-flung corners of the globe like Yemen and Afghanistan. He will also have plenty to keep him awake at night closer to home.
Now that the White House has upped the seriousness meter after once foolishly referring to the Islamic State as the junior varsity, the entire U.S. defense apparatus has calibrated itself around confronting this very real global threat.
Placing Mexico at the same level of importance as countries in the Middle East may be unrealistic, but the country with which we share a border and a complicated security relationship should at least be in the conversation.

— Nelson Balido
There are gaping holes in the U.S.' border security strategy, something made plain when thousands of undocumented minors were streaming across the U.S.-Mexico border this past summer. If the Islamic State is sophisticated enough to develop its own currency, then surely its operatives were paying attention. If kids who aren't even old enough to rent a car could figure out how to get into the U.S. without documentation, then we should be very concerned about what a terrorist organization could do with a little motivation.
READ MORE: https://www.foxnews.com/opinion/opinion-the-next-u-s-defense-secretary-should-pay-attention-to-mexico-and-our-borders-heres-why
Published 
https://nelsonbalido.com/wp-content/uploads/2023/01/NEWSLETTER_OPINION-532x120-1.webp
120
532
Carmen Alayeto
https://nelsonbalido.com/wp-content/uploads/2020/08/BALIDO_Logo_FINAL_RGB_Unstacked-300x144.png
Carmen Alayeto
2023-01-04 15:41:15
2023-01-04 15:41:15
Opinion: The next U.S. Defense Secretary should pay attention to Mexico and our borders, here's why